Residential Wiring Solutions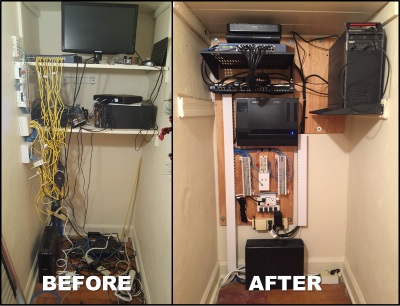 If you need installation and repair services for your residential data network, Complete Wiring Solutions is here to help. Whether you are installing a home office network, home theater or room addition, our solutions, experience, and service are top notch. Our team of experts can install various low-voltage wiring from:
Data
Voice
Coax Cable
Video Systems
When you hire CWS, you know you're receiving the best data, voice, cable and video installation available in the Indianapolis, IN area. We will make sure that you are very satisfied with the service that we have provided. CWS ensures your installation or repair work is of the highest quality.
Here are some additional residential solutions we can help you with:
New Construction Prewiring
Room Additions
Phone Wiring and Jacks
Data Wiring and Jacks
Coax Outlets
Consultation Services
On-Q Panel Installation
Home Networking
Wireless Network Set Up
Battery Backup Systems
Troubleshoot Existing Services
Wiring for Wall Mount TV Installations
Intercom System Installations and Replacements
General Wiring Cleanup
Electrical Wiring*
We believe CWS is the best choice for your home, and we always prioritize your telecommunication and data needs. We have the ability to implement any data/voice/network solution necessary. We are always happy to work with you to make sure that you get the result you need, when you need it.